It's been said that some of the most beautiful flowers in all the world grow in the harshest environments. Indeed, vast fields of wildflowers can be seen bursting forth in colorful splendor in such inhospitable places as the Mojave Desert.
Okay, so maybe the Penguins' 2017-18 season isn't exactly akin to such an arid and desolate locale. However, with the team struggling to string together wins and perched a mere handful of points out of the Metropolitan Division cellar, it hasn't been a rousing success, either.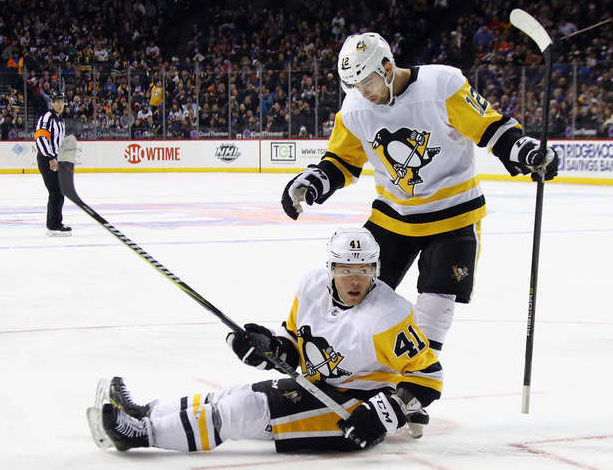 Yet even on the desert floor, wildflowers bloom. Or, in this case, rookies Tristan Jarry, Dominik Simon and Daniel Sprong.
The kids were at the forefront of the Pens' 4-0 pasting of the New York Islanders at Barclays Center last night, a triumph that enabled our guys to slip past the staggering Isles and into sixth place.
Since it's an oft-stated hockey-ism that success begins in goal, I'll start with Jarry. Tristan made 31 saves last night to register his second shutout in only 14 appearances, a pace that would place him among the league leaders with a full-time starter's workload. Without much fanfare, he's posted a sparkling 2.17 goals against average and an equally impressive .928 save percentage.
Like another black-and-gold goalie who donned No. 35, Jarry doesn't lack for confidence. And talk about unflappable. The 22-year-old wonder seems totally unawed by his big-league surroundings. He shrugs off slap shots and prime scoring chances with an equanimity that makes even his famously poised partner, Matt Murray, appear jittery by comparison.
Many of us were petrified at the prospect of riding a Murray-Jarry tandem, especially after veteran Antti Niemi blew a gasket and had to be released. But rest assured, the Penguins' net is in good hands.
Of course, hockey's a team sport, and Tristan had plenty of help last night. A healthy hunk of it came from Sprong.
To say that few Penguins, past or present, have generated the sense of anticipation that surrounds the Amsterdam native would be an understatement of the highest magnitude. Indeed, Sprong's created a buzz among Penguins Nation unmatched since Evgeni Malkin bid an emotional dasvidaniya to parents Natalia and Vladimir and defected from Mother Russia back in 2006.
Skating alongside Sidney Crosby, the fuzzy-cheeked rookie provided a tantalizing peek at his abilities, ones that earned him AHL Player of the Month honors for December. Bursting into the New York zone on a 2-on-1, he placed his stick in perfect position to receive Sid's sharp, cross-crease pass and adroitly directed it home.
A nice goal, for sure. However, it was his second tally that really grabbed my attention…and made my heart skip a beat. After retrieving a sweet bounce pass off the left side boards from Justin Schultz, Sprong didn't hesitate. Skating straight for the net, he beat Isles goalie Jaroslav Halak high to the glove side with a beautiful top-shelf wrister, banking it off the iron, to boot.
Watching the replays, it appeared Sprong had perhaps the tiniest sliver of an opening. Yet somehow he threaded the needle.
Breathtaking. A goal scorer's goal, for sure.
By contrast, Simon's skills are more subtle, yet every bit as deadly. Excellent in traffic despite his small stature, he excels at making short, crisp passes, like the one he delivered to spring Crosby and Sprong on the game-winning goal.
Simon also reads the game at a high level and has a knack for finding the seams, in a style reminiscent of former Jussi Jokinen. The fact that he's comfortable on left wing…an area of need? A huge bonus.
Toss in newcomer Jamie Oleksiak, who seems to be developing nicely (51.1 Corsi) while adding a much needed physical presence to the defense?
Even in this brackish season, flowers are abloom.
Puckpourri
Crosby tallied a goal and three assists to earn the number one star. Malkin rounded out the scoring with his 15th goal of the season, a power-play tally at 3:30 of the second period.
The Pens outshot the Islanders, 31-10, during a 30-minute stretch of the first and second periods. They finished the game with a 38-31 edge in shots on goal.
Sprong paced the locals with six shots, one behind Islanders captain John Tavares. Ian Cole and Kris Letang registered five shots apiece.
*Be sure to check out Rick Buker's books,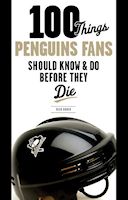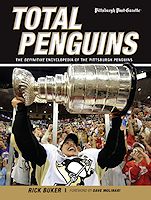 available at TriumphBooks.com, Amazon.com, and BarnesandNoble.com