"It…could…work!"
Actor Gene Wilder, playing frazzle-haired Dr. Frederick Frankenstein (that's Fronk-un-STEEN) in the all-time comedy classic Young Frankenstein, shouted those very words during a wild-eyed moment of clarity when he realized his grandfather's efforts to restore life to the dead might bear fruit.
After witnessing the Penguins' recent resurgence (8-3 in January), the very same thought crossed my mind regarding our chances for a coveted three-peat.
Okay, so perhaps it's a bit of a stretch to compare our 2017-18 season to Frankenstein's pale green monster, but not much. After all, during a hideous 4-0 loss to Carolina just three short weeks ago, the Pens had shown about as much pep as Herr doctor's hulking creation, strapped cold and lifeless to a laboratory table.
So what's changed?
Throw the Switch
If ever a team needed a jolt of electricity, it was our Penguins. Especially after they negotiated the first half of the season much like Peter Boyle's bemused monster stumbling aimlessly through the fog-shrouded backwoods of Transylvania following his reanimation and subsequent escape from the castle.
Fortunately, like a latter day Dr. Frankenstein, general manager Jim Rutherford had his finger squarely on the team's fading pulse. Fully aware the Pens were missing a part or two, he swung a pair of trades just before the holidays that doubled as a wake-up call. Roughly the hockey equivalent of attaching power cables to the monster's electrodes and throwing the main switch.
Built somewhat along the lines of the monster (although a much better skater), newcomer Jamie Oleksiak instantly displayed the promise that had once made him a mid-first round pick, not to mention a much-valued penchant for physical play.
Still, the Pens wobbled along like an old wooden ox cart traversing rugged cobblestone streets, alternating wins with often-ugly losses. Clearly, more help was needed…and fast.
Hello Handsome!
Enter rookie wingers Dominik Simon and Daniel Sprong. By coincidence, both Europeans.
Sprong's much-anticipated arrival provided a badly needed spark, not to mention an instant buzz among the Pens' faithful. However, it was the less-heralded Simon who's had the greatest impact. Thanks in part to his high hockey IQ and scrambling, opportunistic style, the young Czech forward's proved a remarkably good fit on the top line next to Sidney Crosby, while plugging a gaping void on the port side.
Best of all, Simon's presence has enabled coach Mike Sullivan to cease his frenetic stitching and re-stitching of the forward lines, a botched lab experiment that was about as useful as a broken Pyrex beaker.
Grafted next to Evgeni Makin and good friend Patric Hornqvist, Carl Hagelin suddenly found his game, giving the Penguins a productive second line and affording Sullivan the option of sliding Phil Kessel to his own unit…a formula that worked so well two short seasons ago.
Faster than you can say Frau Blucher, the Pens awakened.
Give Him a Sed-a-give
Perhaps the most compelling reason to believe our Pens actually have a shot at winning another Cup? With the notable exception of last season, when we broke all the rules in abby-normal fashion, we're following our championship pattern to a T. Ergo, we sleep walk through the first half as if someone had slipped us a sedative ("sedagive" in Igor speak) before shaking off the effects and catching fire.
Or, to mangle an old quote, the first half of the NHL season only counts in horseshoes and hand grenades. Something like that.
Indeed, during our first Cup season in 1990-91 the Pens were just two games above .500 on March 1. The following season they'd sunk even lower—all the way down to .500 by February 27. In 2008-09? Two games above .500 on February 16.
Actually, we've come eerily close to duplicating our pattern from two years ago. At the 2016 All-Star break, we had 55 points and were just beginning to show signs of life under Sullivan. Two points behind where we stand today, albeit in three less games.
Could Be Worse…Could Be Raining
While the Pens have begun to extricate themselves from the miry grave they dug, the competition is malfunctioning worse than Inspector Kemp's faulty wooden arm.
Following a blistering first half, league front-runner Tampa Bay recently endured an ugly stretch of five losses in seven games. Toronto? The Leafs are a pedestrian 8-7-4 since December 10. Washington, arguably the surprise team of the Metropolitan Division, recently showed signs of slipping.
Among our Eastern brethren, only Boston and Philadelphia are on discernable rolls. Especially torrid, the Bruins are an astonishing 23-3-4 since mid-November. Let's see 'em keep that up for another two-plus months.
What goes up must, eventually, come down. Front-runners don't often win. The last Presidents' Trophy winner to cadge a Stanley Cup was Chicago in 2012-13, a lockout-shortened season that was more sprint to the finish line than endurance test. The last to win after navigating a full 82-game slate was Detroit back in '07-08.
As for my movie analogy? The monster eventually returned to the castle, where he underwent a procedure to give him a calmer brain. The good doctor gained something in the process, too.
Mmmmmmmmm.
If you'll pardon my Pittsburgh-ese, I like where we're at. Suddenly, I like our chances, too.
######################
For the unfamiliar, my goofy subheads are lines from Young Frankenstein. A must-see movie.
*Be sure to check out Rick Buker's books,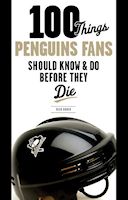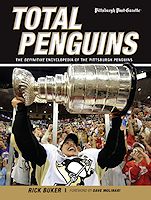 available at TriumphBooks.com, Amazon.com, and BarnesandNoble.com