Okay, so it wasn't exactly the three-peat we've all been dreaming about. But the Penguins did claim a three-fer last night at PPG Paints Arena.
That's the best way I can describe a crazy-quilt 6-5 overtime victory over Boston that seemed to be three separate games wrapped into one.
Part one? All Penguins. Indeed, after spotting the Bruins an early lead, our guys methodically took charge. Just as I settled into my seat at the Pennsbury Pub and Grille, defenseman Jamie Oleksiak knotted the score at 1-1 with a well-placed bomb from the blue-line.
The kid's got a heckuva shot, I noted, nodding my head to no one in particular. The bartenders and other patrons at the Pub are used to me mumbling all sorts of oddities during Pens games. Part of my ritual (and charm).
I smiled as Phil Kessel took a perfect feed from Sidney Crosby and whipped home his patented wrister to stake us to a lead. Warming to the task, I hollered in throaty approval when Kris Letang beat Bruins netminder Tuukka Rask from long range to put us up by two goals.
As we began the second period with a commanding 3-1 lead, I took a swig of beer and allowed myself to relax a little. We've got this one, I thought.
Who knew the Bruins had the Pens right where they wanted them?
I squirmed in my seat when the eminently hateable Brad Marchand beat Tristan Jarry with a laser off a faceoff win. Nothin' the kid could do, I reasoned, trying to ward off fears of an imminent black-and-gold collapse.
Moments later, I watched in horror as B's defenseman Brandon Carlo wheeled unimpeded into the high slot.
"Oh no," I yelled, a millisecond before Carlo cut loose a shot. You watch enough hockey, you get a sixth sense about these things. Sure enough, the puck sailed past Jarry, with a little help from Noel Acciari.
On cue, our Pens dissolved into a quivering blob of Jell-O. All I could do was shake my head in disgust as the Davids—Pastrnak and Backes—beat a wilting Jarry to hand the visitors a 5-3 lead. At this juncture, two patrons at the bar, voicing their righteous disapproval, got up to leave. You could hardly blame them. This had all the makings of an ugly, ugly loss.
As I often do, I began to try and formulate a story line, in case I decided to do a game summary for PenguinPoop. Not that anyone was gonna' read about another black-and-gold meltdown.
I'd barely had time to glance back at the screen when Evgeni Malkin ripped an improbable shot past Rask from one knee, thanks to another golden setup from Sid. I noted the clock. Three-point-six seconds left. Huge goal.
Was it silly to hope for a Pens comeback? After some deliberation, I decided to stick around for the third period and ordered another beer.
So glad I did. I could scarcely believe my eyes when Riley Sheahan (yes, Riley Sheahan) swooped down the left side of the B's zone and beat Rask to the short side to knot the score at 5-5. Way to go, Riley!
I followed the remaining action with an odd blend of hope tinged with trepidation. Our boys were carrying the play to the Bruins, who—playing their second game in two nights—seemed suddenly frozen in their tracks. Still, I fretted. After all, I'd seen the Pens dominate before, only to surrender an odd-man break going the other way and…
Sure enough, with just over 60 ticks left in regulation, Marchand zooms in all alone, only to get keelhauled at the last second by Oleksiak. What's that? The ref's calling for a penalty shot? Crap!
Unable to turn away, but scarcely able to watch, I clasped my hand to my face and watched through spread fingers as Marchand hurtled toward our net at breakneck speed.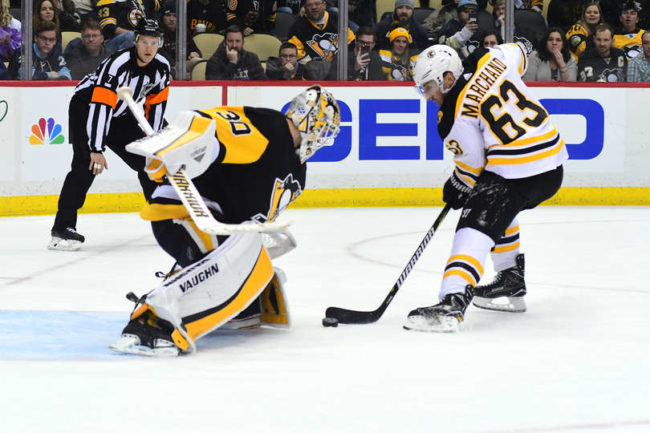 This is it, I thought. I cringed when he made his move, taking dead-aim at Matt Murray's partially exposed five hole. I held my breath, waiting for the puck to emerge from the other side of Murray's pads. Following an interminably long second, it dawned on me that 'Murr' had made the save.
Rarely have I been so grateful to earn a point in a game we've should've won. It got even better. Like the cavalry coming to the rescue in an old western, there was Malkin and Kessel, churning toward the Bruins' goal. Working as pretty a give-and-go as I've ever seen, 'Geno' passed to Phil, who threaded it back to Malkin. The big Russian made no mistake, rifling the puck over Rask's right pad for the overtime-winner.
"Yeaaaaaah!" I shouted, thrusting both arms skyward in triumph. Not very eloquent, but about all I could muster following such an emotionally draining game.
Spent but grinning from ear to ear, I finished my beer, dragged myself off the barstool and slipped on my winter coat in preparation for the short but chilly walk home. After bidding my adieus, I pushed open the exit door and felt the seasonably frosty night air nip at my face. I hate the cold, but this time I didn't care.
What a win.
*Be sure to check out Rick Buker's books,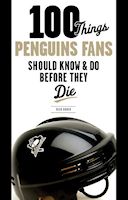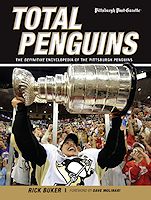 available at TriumphBooks.com, Amazon.com, and BarnesandNoble.com