To quote Hans Solo, "I have a bad feeling about this." I hope I am wrong.
I was just reading some notes from the Penguins practice this morning on the NHL web site. According to this site, Jake Guentzel was Centering the 3rd line. Honestly, it may not be optimal, but until the team gets a legitimate 3rd line Center, it may be the best thing they can do. Riley Sheahan did look really good Centering the 4th line between Tom Kuhnhackl and Ryan Reaves, making Carter Rowney the odd man out and swing man right now.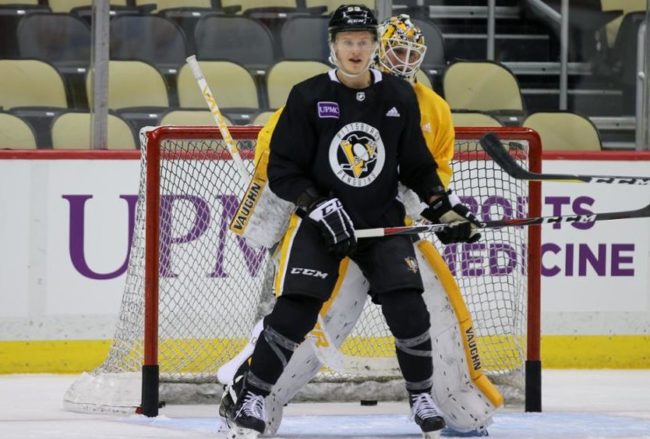 However, I do have a bad feeling about tonight's game against the Carolina Hurricanes. Again, according to the NHL web site, the rest of the Penguins work flow at practice was like this;
Dominik Simon – Sidney Crosby – Conor Sheary
Patric Hornqvist – Evgeni Malkin – Phil Kessel
Carl Hagelin – Jake Guentzel – Daniel Sprong
Tom Kuhnhackl – Riley Sheahan – Ryan Reaves
Matt Hunwick – Kris Letang
Ian Cole – Justin Schultz
Olli Maatta -Jamie Oleksiak
Apparently Mike Sullivan is going to try and force that proverbial square peg into the round hole. He is apparently going to try playing 2 Left Wings on Crosby's line and 2 Right Wings on Malkin's line. Each time I have seen the NHL report a work flow like this that is what the team did during the game. It hasn't worked yet. Maybe it will work tonight but there is no game evidence to support that optimism. I truly hope history doesn't repeat itself. I hope it works this time.
Although Hunwick does play much better on the left side, playing the 2 weakest defensive defensemen (Letang and Hunwick) together also seems to be a less than a good idea.
Odds and Sods
Tristan Jarry did participate in this mornings practice.
Teddy Bleuger scored the game winning goal last night to lift Wilkes Barre Scranton over Bridgeport in OT.
Penguin prospect Filip Gustavsson and team Sweden take on team USA tonight in the Semi Finals of the 2018 Junior World Championships.