Southside Shultzie

Southside Shultzie (Rob Shultz) started his hockey and writing career at an early age when he wrote his name on his skates at the age of 5.  Born in Cleveland, Ohio duing the hayday of the WHA Shultz recalls rooting for the Cleveland Crusaders as well as the Pittsburgh Penguins in the NHL.  Shultz also played hockey from an early age.  Starting his career with the Parma Bears at age 8 (His father had to lie about his age because the league was for ages 12 and up) Shultz led the league in goals and penalty minutes.  The scoring and PIM trends continued as Shultz's young career evolved into playing for a talented travel team.  It was here with the Brooklyn Blades that Shultz got the nickname (Radio Robert').  "They called me that because I had tons of hits and that I had a face for radio" quipped Shultz.  After playing throughout the East Coast Shultz and his family traveled out west. To his dissappointment the hockey programs that were available in Arizona were a far cry from the competetive leagues of the East Coast.  It wasn't too much longer before Shultz returned to the East Coast.  Meyersdale, Pennsylvania to be exact.  Shultz recalls rooting fo the Johnstown Jets (and later the Chiefs).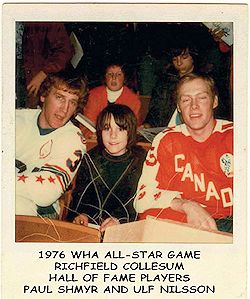 If I wasn't at a Jets game I was skating around and shooting pucks next to my house.  I lived next to a flood control project that was perpetually 2 inches deep and was frozen from October to May!  My friends didn't know much about hockey,  they actually used "hockey" as a verb as in "Hey, wanna go down and hockey around?".   It's funny,  I had the only equipment around and since I am a left handed shot so was everyone elese in the neighborhood!  Now 30 years later Meyersdale is a pretty big hockey town!    Now that Shutz has settled down a bit he has traded in his left handed sticks for a pen and paper for Penguinpoop.com. 
He and his wife and I have been Pens season ticket holders for about 15 years although with Little Robbie (18 months onld) growing like a weed and another little guy on the way in June they might have to snag 2 more sets of tickets!   Professionally Shutz in a designer of many things including products, logos, web sites, clothing, and furniture.  He has a sculpture on permanent display at the David L. Lawrence Convention Center in downtown Pittsburgh.  Besides his contributions to Penguinpoop (as an artist,musician, and blogger) he has worked for clients including Harley-Davidson, Coca-Cola, Playboy, MTV New York, Nine Inch Nails, and Littlearth.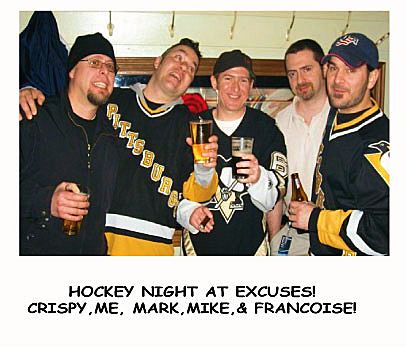 Below are his answers to a few questions sent in y penguinpoop followers:   
Best place to watch away games:  Excuses Bar and Grill on the Southside!
Favorite Wings:  Chicken-definately Chicken!
Favorite Hockey Logo (besides Pens):  Chicago Blackhawks! "Being 1/8 Native American I can appreciate the logo and the old school flavor and respect that comes with it."
Best Hockey Name: Roman Hamrlik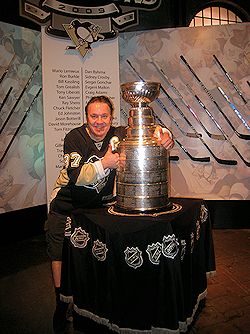 All

Pittsburgh Penguins vs NY Rangers 2015 Playoff Predictions

Here we go again, It's the Pittsburgh Penguins facing off against the New York Rangers for the eight playoff game in a row for the Penguins.  Since…