Wouldn't this be the coolest shirt if the Pens win the Cup this year!
PenguinPoop is giving away our last shirt autographed by six different Pittsburgh Penguins.
James Neal, Simon Despres, Marc-André Fleury, Kris Letang, Chris Kunitz & Brandon Sutter, (from left to right ).  We were going to hang this third one in the PenguinPoop home office, but decided to give it away!
Must enter by tonight at Midnight!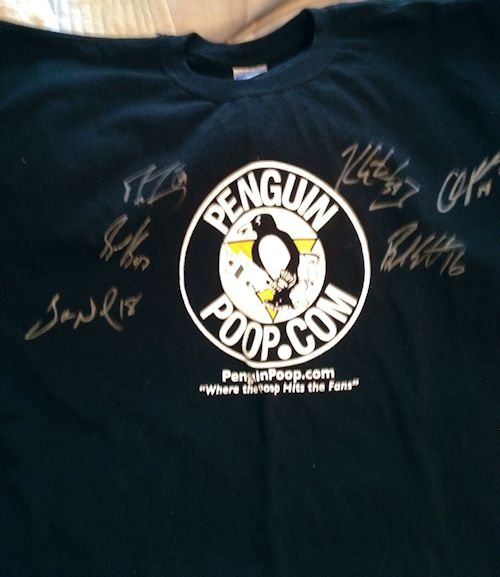 CONTEST #3 (rules are below)
Contest #3 ends at 11:59PM EST Friday May 17th, 2013.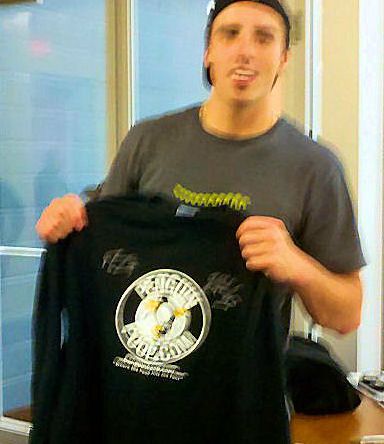 This is the shirt MAF is Holding up after him & Letang signed it but before all six signed it! (sorry, we are not the best picture takers) MAF is not included with the shirt.
There are two ways you can enter the contest:
1. Twitter – Make sure you are following us on Twitter by clicking here:

Once you are following us, just click tweet below:
and you are entered.
2. Facebook is a two step process – Go to our Facebook page make sure you "Like" us then share the "Autographed Hoodie" picture on your Facebook page (see below). and your entered. (this method of sharing does not work on some Iphones, you may need to find another way to share it)

Click here: to go to our

page.
*This promotion is in no way sponsored, endorsed or administered by, or associated with, Facebook.
*Yes, if you do both Twitter and Facebook it doubles your chances of winning!
*Sorry, friends & family of PenguinPoop staff are not eligible to win.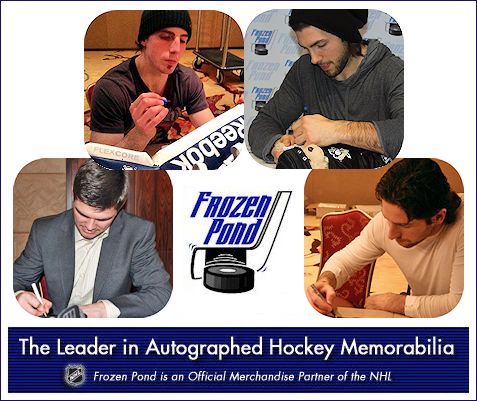 All enteries for the 3nd contest must be in by 11:49PM EST Friday May 17th, 2013. All we ask is that we are able to use your first name on Facebook, Twitter & this page when we announce the winner, if you can't let us do that, you can't win. We will only ship to USA or Canada. Winners from elsewhere will have to make other arrangements.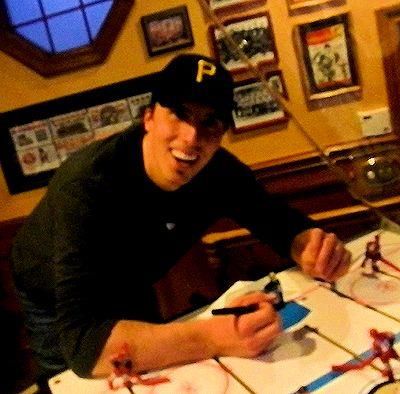 M-AF signing the PenguinPoop home office dome hockey game.
Some of our older contests:
The winner of the first Autographed Hoodie was Michelle from Washington County.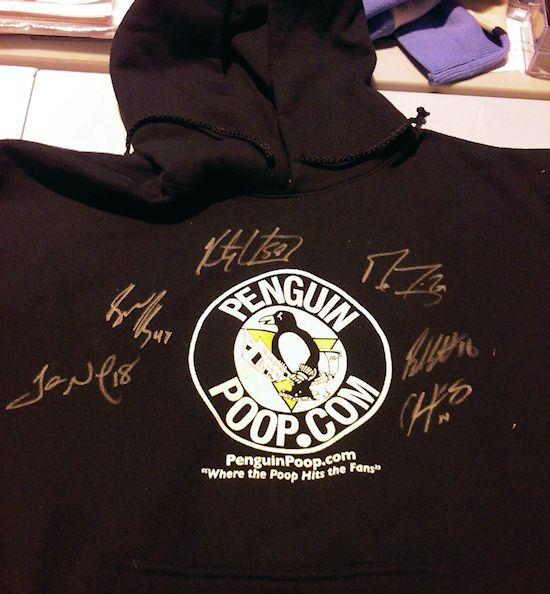 The Winner of Hoodie #2 is Michael from Glassport, PA.